Tracker Down- 136404
Below are photos, links to articles and a first hand account of the accident.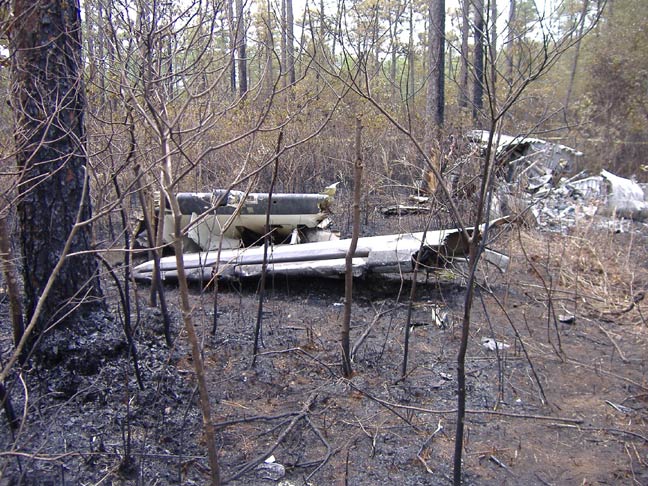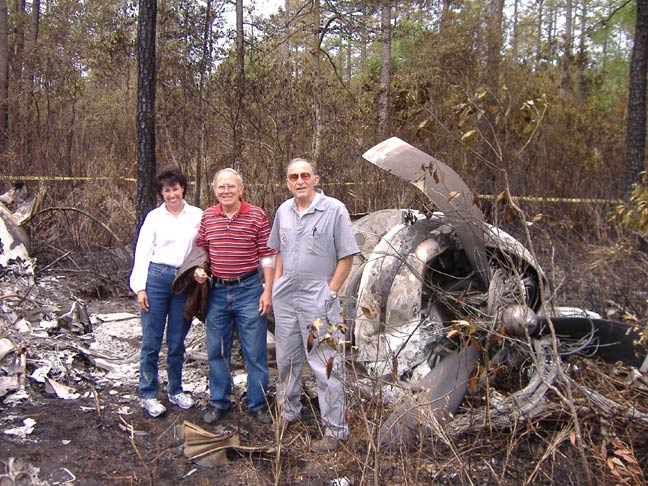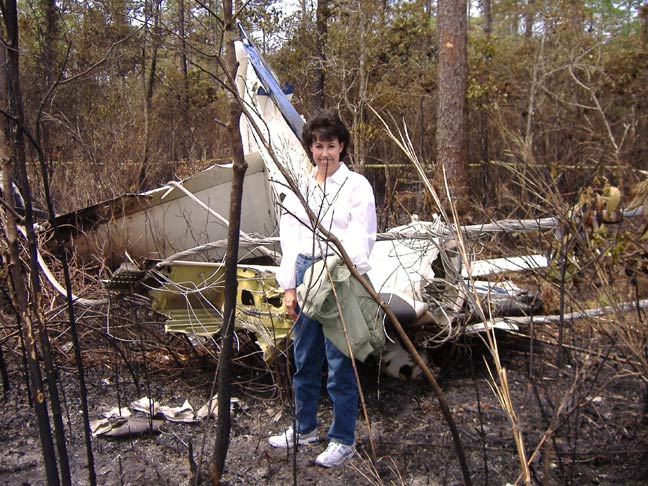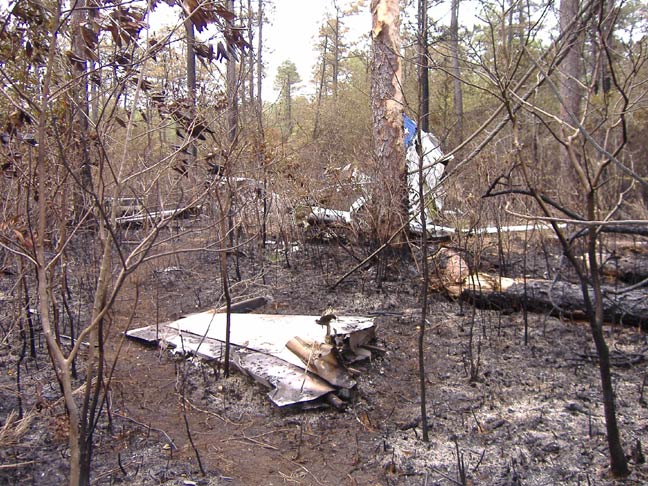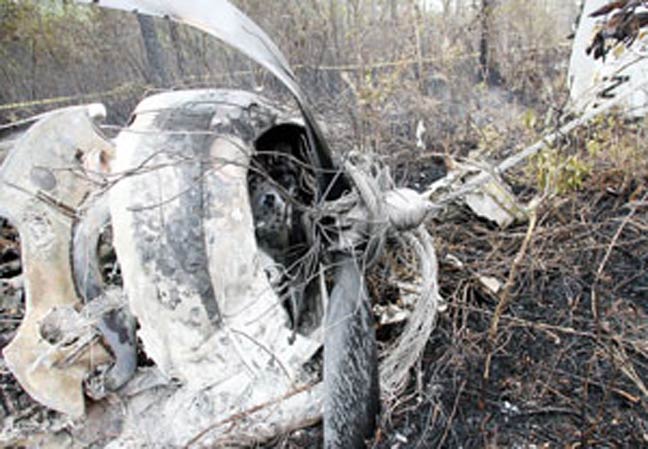 http://www.havenews.com/articles/havelock_2964___article.html/air_point.html
http://www.witntv.com/home/headlines/7317006.html
http://www.wnct.com/midatlantic/nct/news.apx.-content-articles-NCT-2007-05-03-0051.html
http://www.wnct.com/midatlantic/nct/news.apx.-content-articles-NCT-2007-05-03-0058.html
http://www.newsobserver.com/102/story/570502.html
The below was written by Cherie McClung to her fellow squadron members on 5-8-2007. Sort of puts everything into prospective.
"To my dear friends from the Old Dominion Squadron:
Thanks so much for the calls and emails from so many of you. In the past few days, many people have asked questions about last Thursday's accident, so I thought I'd let you know a little info from my perspective as well as one of the articles from local newspapers in North Carolina. (In the photo you can see the 325,000 volt power line wrapped around the left propeller.)
We are so blessed. We lost power on final into MCAS Cherry Point, NC on Thursday. Five of us were on board: Bill Salisbury, Bud Statzer, Buck Barrett, Bert Statzer and me. Bill or Bud radioed that we had lost power and in a matter of seconds we hit power lines very close to a sub station.
The plane jerked (as if we were at the tail end of a whipping snake), then seemed to straighten up. (I assumed we had blown a tire when touching down onto the runway.) Then, a second later, huge bolts of electricity shot all over the cabin. That must have been when we hit the trees because I placed my hands over my face and said a prayer. Then, it was over. In no more than about 3 seconds, all that happened. Bert and I were sitting in the back; I was in the seat directly behind Bill facing backwards and Bert was sitting in front of me. The windows were broken out and I saw Bert's face was cut. I can't recall if I actually heard Bill when told me he had hollered "Everyone out of the plane", but I immediately tried the overhead
emergency escape hatch and couldn't budge it. I reached across and opened
Bert's seat belt and he got up, tried the crew door, and it popped open.
We seemed to be in the middle of the forest with tall brush everywhere.
When we exited the plane, we had to literally fight the brush (taller than any of us) to work our way away from the plane. For whatever reason, I picked up my handbag when exiting the Tracker and took it with me. Once outside the aircraft, we made our way as far away as possible which was very difficult. Bert turned back to the plane and I continued out and around the front of the plane yelling "Are you out?" to the others, thinking that they were perhaps on the other side of the aircraft. I could hear Bill and then saw Bert again coming my way. (I almost tripped over a big battery box at 2:00 o'clock from us. At that moment, I wondered why someone would leave a battery in the middle of the woods, not realizing that it belonged to the plane. Seems the force of the impact had torn the cables off the battery and thrown it clear of the wreckage. It looked as those someone had set it down in the middle of the forest.)
Bill came out next. He had lacerations on his head, so his face was covered with blood; he had a gash in his knee and another on his elbow. He laid down for a moment and I called 911 (with my good old U.S. Government issued Blackberry) and provided the location Bill had given me. I told the operator three times that we were in a downed aircraft, the type, that there were five aboard (two still on the aircraft), and that we were 1 to 1
1/2 miles off Runway 5 North on final into MCAS Cherry Point. The idiot on the phone told me to hold on, then came back and asked again our location.
I then reported smoke from a fire I could make out in the distance and "barked" that we need emergency assistance now. Bud climbed out through a rip in the front of the fuselage by his seat, and Buck was still inside the aircraft and couldn't move. (Bert was able to go back into the plane and pull Buck onto the pilot's seat shortly after.) Anyway, the USMC helicopter came in and I told the operator I was hanging up. I know it was a only a short time, but it seemed as though precious minutes were passing.
During that time, I removed my blouse to use to help to stop the bleeding on Bill's head. (Big deal...I flashed my undergarments for a moment, then pulled my sweater back on...something we all laughed about a couple of days later. After all, a girl's gotta do what a girl's gotta do...)
The two corpsmen who came down via the helicopter told us they would lift two at a time into the helicopter and then would go in to help Buck in the plane. By then, there was fire starting all around. Seems during our wrestling match with the cable, it had snapped like a slingshot, flying both directions and starting fires in the EXTREMELY thick brush and trees on both sides of us. With the fire fast approaching, and with insufficient time for the helicopter to pull us all to safety, a decision was made for the four of us to walk out. One of the two corpsman took us about 40 feet and pointed us in which direction to walk, then returned to rescue (and
airevac) Buck out. In my opinion, our trek through the brush was horrible.
You had to literally fight your way through the brush, with much of it stopping us in our tracks because of all the intertwining branches.
Someone stepped on my heel, so I lost a shoe that seemed to disappear. I was so tired and winded and needed to stop at a tree to get my breath. But my amazing colleagues wouldn't allow me to stop and kept pushing me forward. At one point the smoke was so intense that we couldn't see through it and we could feel the intense heat of the fire around us. We finally got to a burned out clearing that was still smoldering. It was hot in places and the heat caused me to blister my foot without the shoe. A fireman "greeted" us and kindly threw me over his shoulder (not comfortably, I can assure you) and carried me to a cool spot where I could walk again.
My gallant colleagues were true heroes in every sense of the word. It was the amazing skill and keen flying abilities of Bill and Bud who continued to fly the aircraft after we had lost power, with Bud holding the rudder hard to keep the aircraft from flipping over, that subsequently saved our lives. And no doubt Bert's action in returning to the plane to check on Buck, untangling him and moving him to a seat, helped to hasten Buck's rescue by the USMC. Then, it was their attitudes of leaving no one behind that certainly motivated me to continue on, as Bill, with all his injuries, told me that if I couldn't make it that he'd have to carry me, and Bud (the true U.S. Marine Colonel at its finest) never mentioned that his ankle was bothering him. (It wasn't until later that we heard that his ankle had been broken in two places, requiring several days in the hospital and an
operation.) And Bert, ever the gentleman, offered to carry my handbag and jacket!
We were taken to three different hospitals. I accompanied Bill, Bud and Bert went to another, and Buck, no doubt everyone's favorite squadron member, was flown to the trauma unit at still another facility. Both Bert and I had strained our backs a bit, were checked over, and released from the hospitals where we had been taken. Bill received six staples to the lacerations in his head, as well as stitches to his knee and dressing to his elbow and remained over night for observation. Barry St John, at the airshow with his Stearman came to the hospital where Bill and I were, while his lovely wife, Mary Ann, went to check on Bud and Bert. He and Mary Ann kindly transported Bert and I to the hotel where we the base had delivered its welcome package and keys to cars. I appreciate their kindness so much.
Thanks to Barry's extreme patience, I was able to visit Walmart that evening where I was able to purchase things left in the plane and where he purchased clothing for the men.
John Friesz drove down from Richmond on Saturday, and he, Bill, Bert, and I went out to the crash site on Saturday. Funny how you get a different perspective on things, especially after the brush is gone. When we left the plane on Thursday, the fuselage was intact and the wings were attached with the exception on about 1 1/2 feet or so off the end of the right wing that may have been sheared off by a tree.
Upon returning to the crash site, we were surprized to see that the plane was sitting directly 180 degrees out from where we were headed. Seems that when we hit the power lines, one of the lines wrapped itself around the left propeller. During our tug of war with it, it had snapped us around the other direction. (None of us realized that.) The tail of the aircraft stood tall at 10 o'clock from the front of the airplane, little paint was gone, and you could still read "Commemorative Air Force" proudly in bright blue letters. (Bill knew that we had lost the tail on impact.) The rest of the plane had been completely consumed by the fire, so our thoughts of recovering any of our belongings were dashed. The fuselage was complete ash with a bit of the control panel broken off on the side. You could still make out the structure of our seats (I could only imagine where I had left my leather jacket) and you could make out the tool box in what had been the very back of the plane. But that was all. Oddly enough, one of the FAA people told me they had something for me. They had arrived on the scene on Thursday evening, but the plane was still burning. When they returned on Friday morning, they found my perfume bottle on top of the ashes at the back where our luggage had been. Of course the contents had evaporated and the top had melted off, but the glass was still intact and you could still make out "Burberry" printed on the front. I have the bottle in a bag, but I suspect I will throw it away. Can't see that that is much of a souvenir. The examiner also handed a buckle to Bert who recognized it as it own. There was nothing else aside from a wrench that on the side of the pilot's seat.
There is no doubt in my mind that the Good Lord was watching over us. We could have lost our lives via four different scenarios (1) we could have been killed on impact; (2) the plane could have burst into flames killing us; (3) we could have died when the high voltage electricity (235,000 volts we were told) passed through the plane cabin; or (4) we could have been consumed by the forest fire.
The Cherry Point community was very kind and supportive. Dan Brown, the show's Coordinator, offered more nights at the hotel if needed and offered to move us on to base as well. Virtually everywhere we went, citizens wished us well and told us they would pray for all of us. And, by now, Buck's name is on prayer lists all over the state of North Carolina and beyond. But, it was our family in ODS and the CAF that was the most supportive. It was the kindness of members like Barry and John (who even put up with my stupid joking) and the positive thoughts from others in the squadron that saw us through. And, it is this same kindness, generosity, and love that will see Buck, Bud, and Bill to good health once again.
Silly how I can get nervous over a deadline at work that needs to be met or how I can let the actions of a careless driver upset me. In this instance, I seemed to deal with everything okay. I think it will take some time before I realize how fortunate we were. Thank God for the fine skills and sheer determination of my dear aviation friends. After this weekend, I feel we are a true Band of Brothers. I shall always have the utmost respect and admiration for them and their actions.
I am so fortunate to be a member of such a fine organization.
Keep 'em flying,
Cherie"