Grumman S2F Tracker, C-1A Trader, and E-1B Tracers that have been sent to me by persons worldwide to provide documentation of existing airframes. In order by Navy Bureau Number.
Trackers
136421:
10-14-2012: Aircraft moved to Castle Air Museum for restoration and display. Photos Courtesy of Vander Jagt.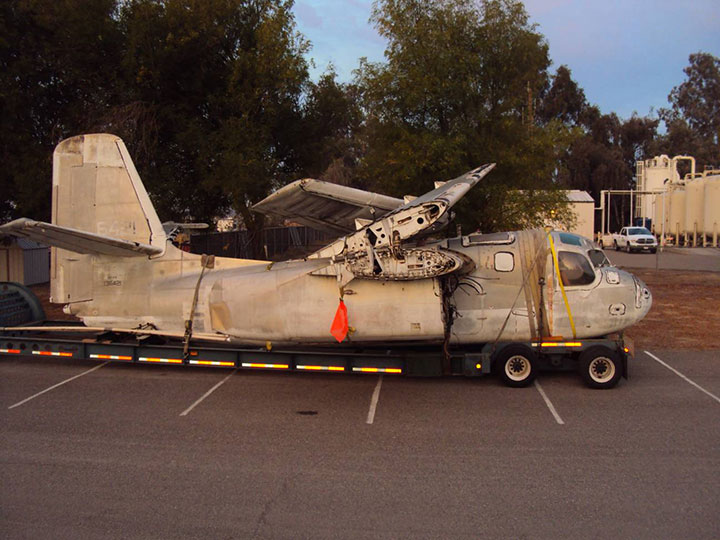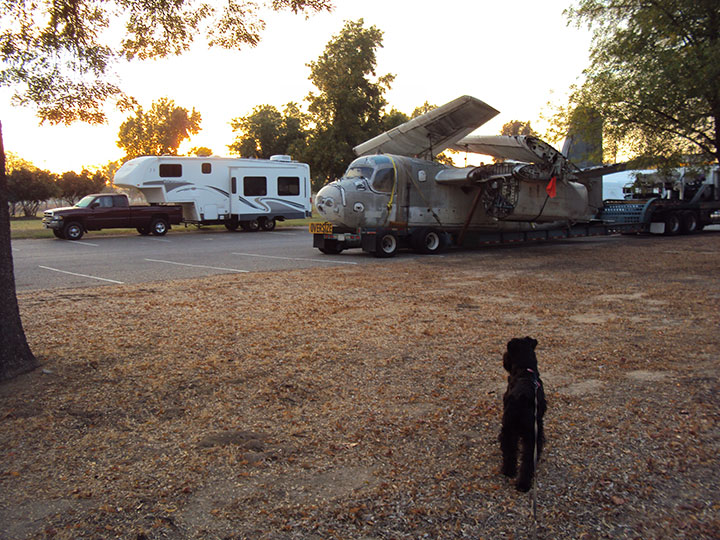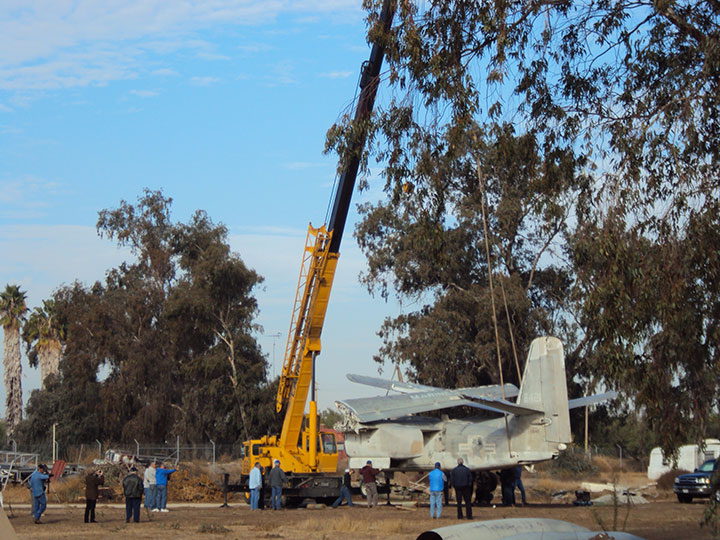 Previous to 10-14-2012: Sequoia Airport in Visalia, CA - Photos Courtesy of Frederick Wester Originally a S2F-1, 136421 was converted to the US-2A configuration. It is now awaiting pickup and transport to the Milestones of Flight Museum in Lancaster, CA. However, the Museum to date as not been out to do the tear down and take the Tracker off the field. This could be detrimental to the survivability of 136421 as the airport may scrap it out, which would be very unfortunate. I want to thank Frederick Wester of TBM, Inc at the Visalia, CA Airport for providing the following photos. The photos were taken at sunrise to capture the Tracker in the foreground with the sun rising to the east. I have modified several of the photos by brightening the images so that the aircraft details are more visible. See one of his unmodified photos on my Home Page.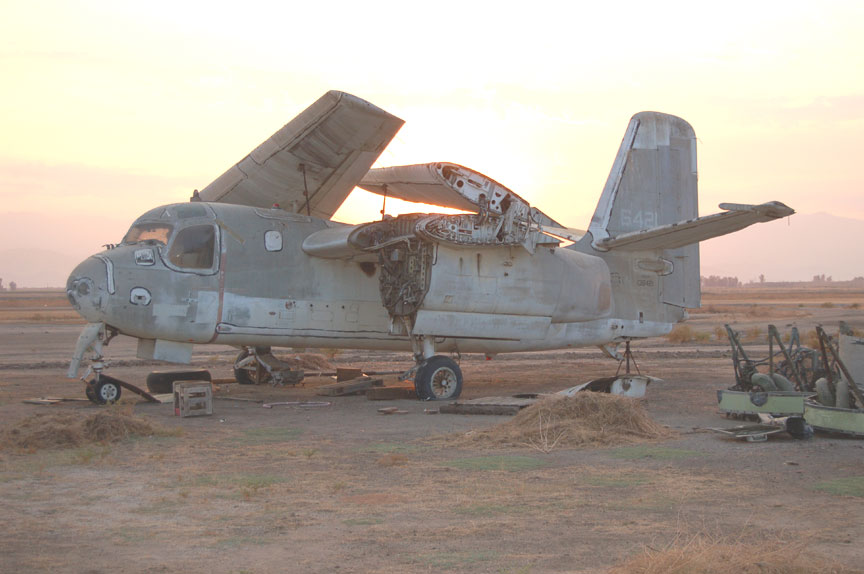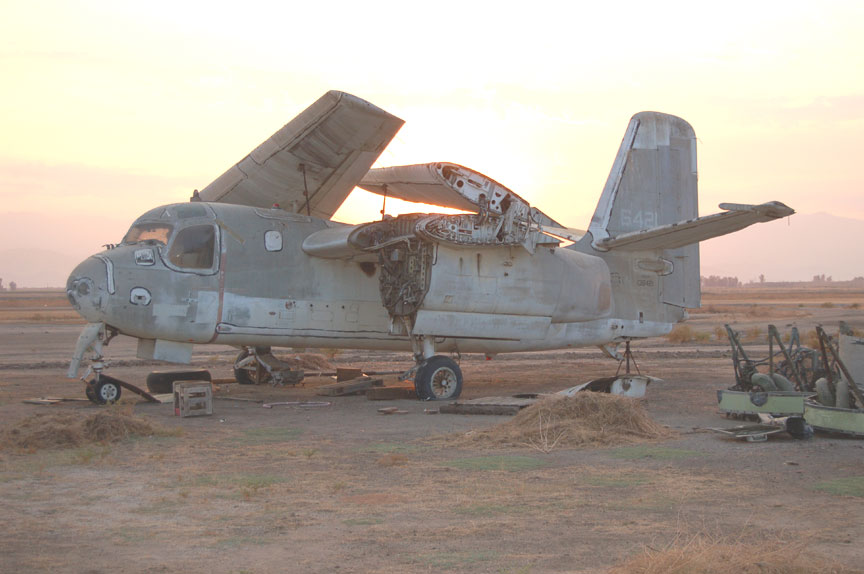 ---
136491: Tanker 7 La Ferté-Alais airshow, south of Paris, France, 1999. F-ZBAU (T-2) was not converted to a Firecat.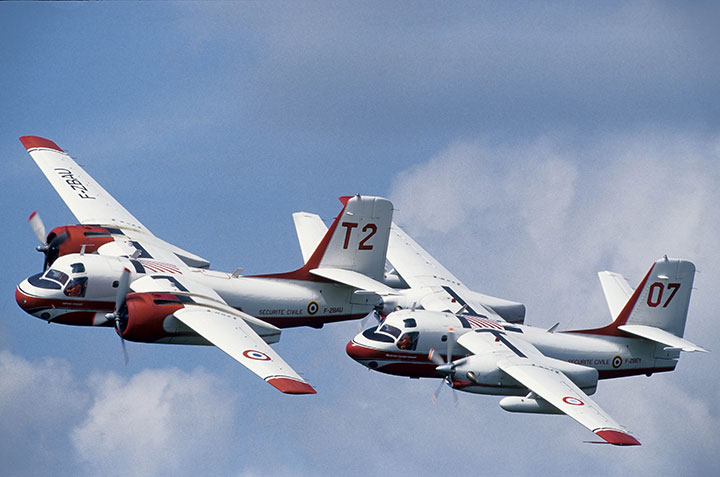 Nice formation photo of the old and the new provided courtesy of Harald Ludwig.
---
136540: American Wings Aviation Museum, Blaine, MN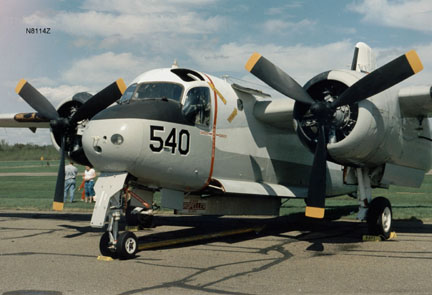 Photo courtesy of Dick Kantrud who was previous owner of 136540 until he donated it to the museum.
---
136573: N31984 owned by Wes Stricker in Rolla, MO and photographed at Rolla National Airport in Vichy, MO.
First photo provided by Roger Janssens of Aarschot, Belgium on Jan 7, 2013.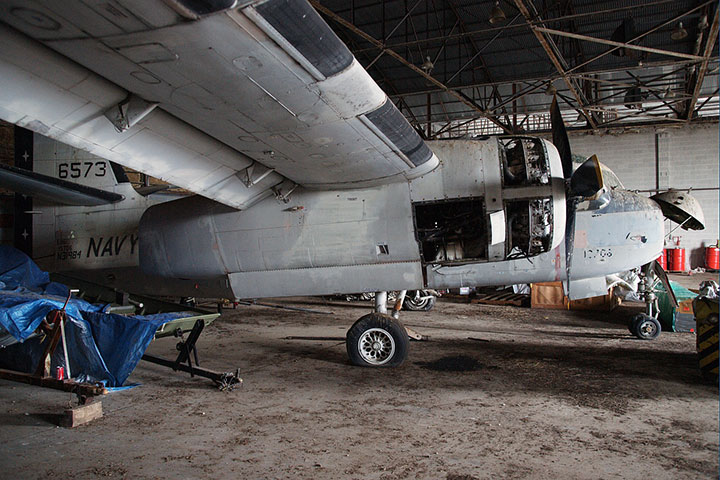 a
August 2011 photo in a hangar.
Second group of Robert Rice photos via Robert Eichkorn Jan 10, 2013. Word is that at DUI truck driver did the damage to the Tracker. The status of the aircraft and its future are still unknown but it may have been donated to a local aircraft maintenance school. Again, if anyone has more information on 136573 please let me know.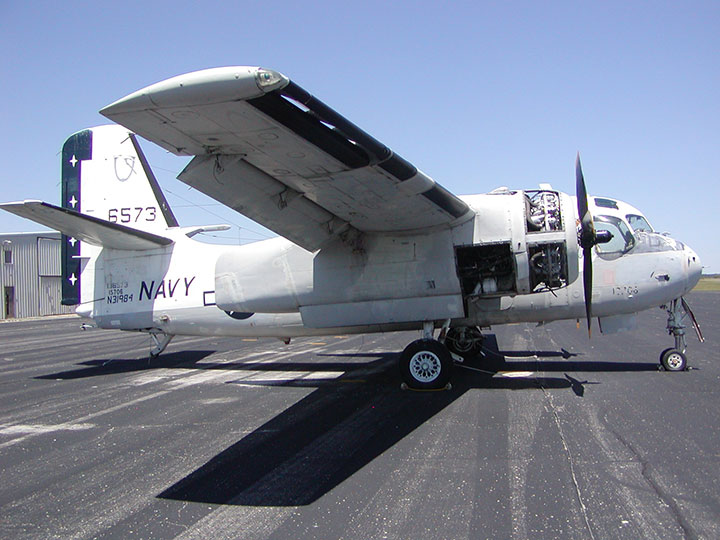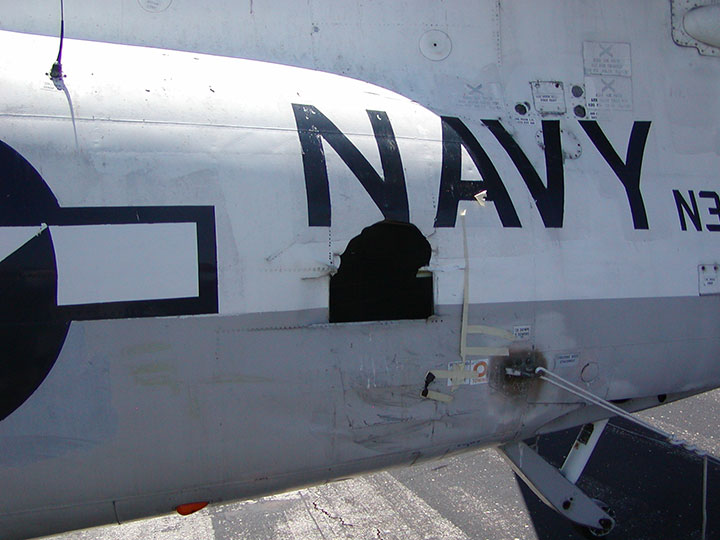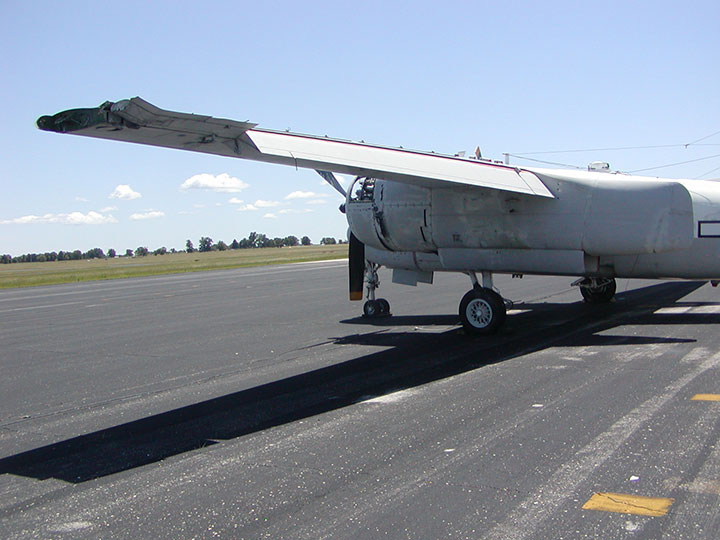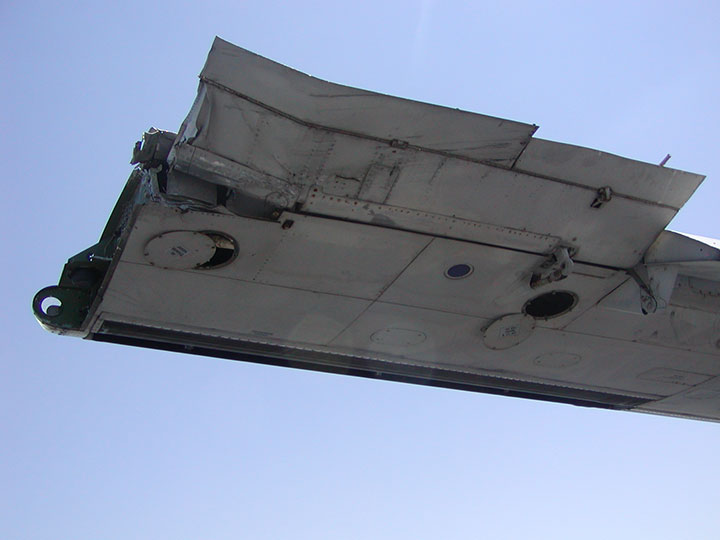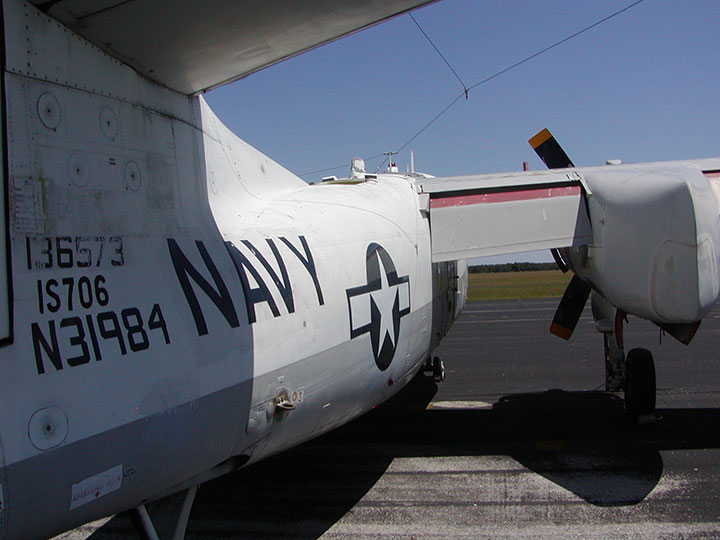 136573 still has the AMARC number on it along with the N number. It appears the aircraft has been washed up as all of the bird droppings that Roger photographed in 2011 in the hangar are gone.
---
136719: Ontario, OR. This Tracker is part of the Merle Maine estate and is for sale.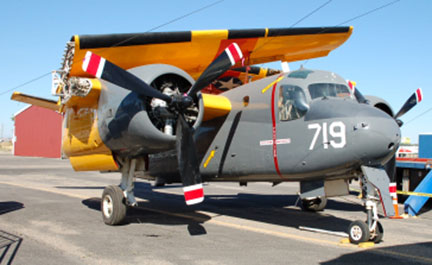 ---
147559: La Ferté-Alais airshow, south of Paris, France, 1988.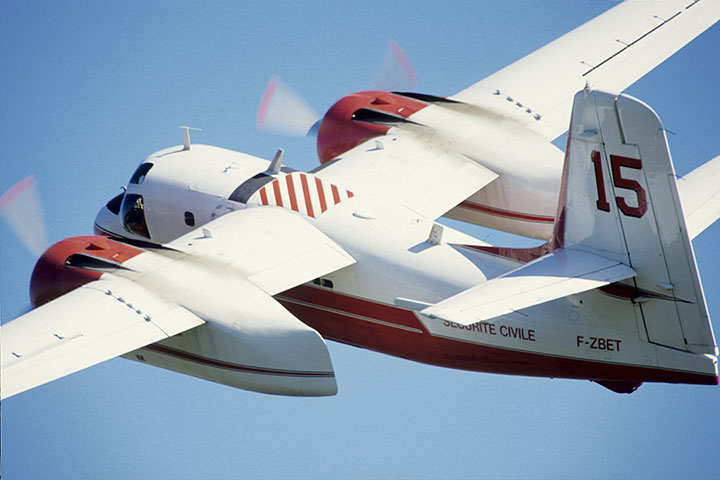 This unique photo of 147559 not only shows off the wing fold hinges but the red diagonal stripping on the top of the fuselage is where the life raft was stored. Photo courtesy of Harald Ludwig.
---
153570: Photos of Cal Fire Tanker 70 undergoing 2012-2013 Winter Maintenance. Photos and commentary courtesy of Ricardo Aguilar.
An average 400 hour progressive inspection including all discrepancies repaired and signed off is usually 2 months long. There are 3 tanker maintenance crews with at least 7-8 mechanics on each crew. Six tankers are going through their inspections at one time. All 23 tankers will go through the inspection cycle before the start of fire season.
Tanker 70 is in progress of a 400 Hour Progressive Inspection and modifications to the battery charging and starter generator systems.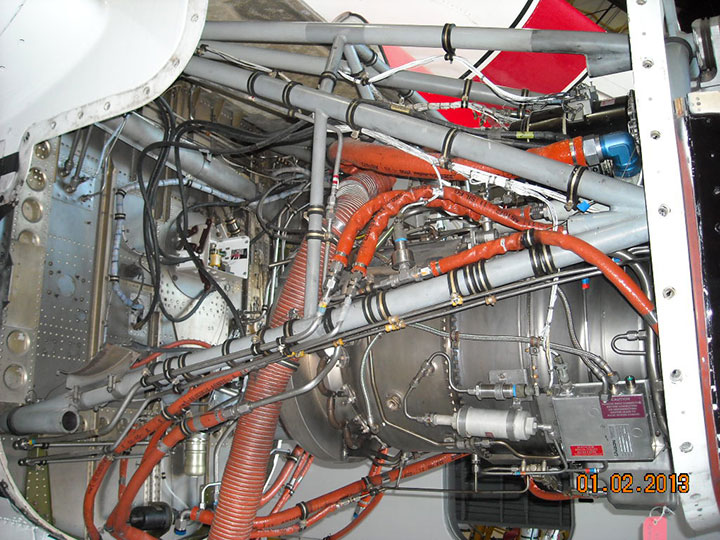 #2 engine inspection and wiring mod. Engine is a TPE33114GR Garrett.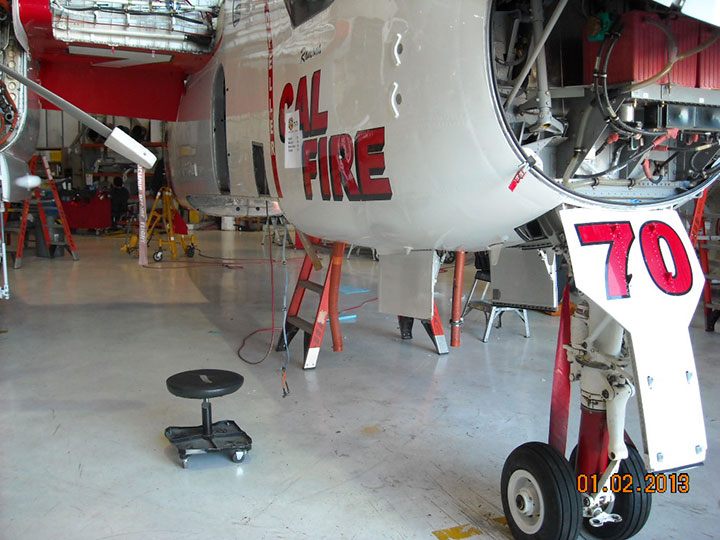 Retardant tank removed as part of wiring modification and 48 month retardant tank/cavity inspection.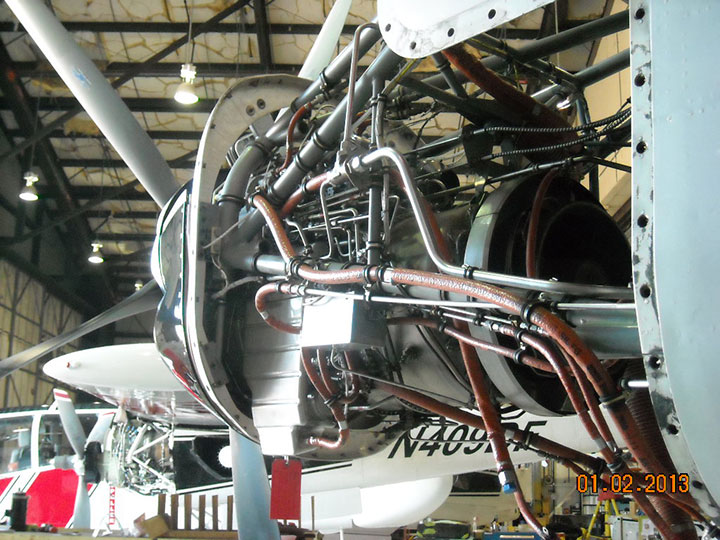 #2 engine inspection and wiring mod. Exhaust educator has been removed as part of 400 hour inspection.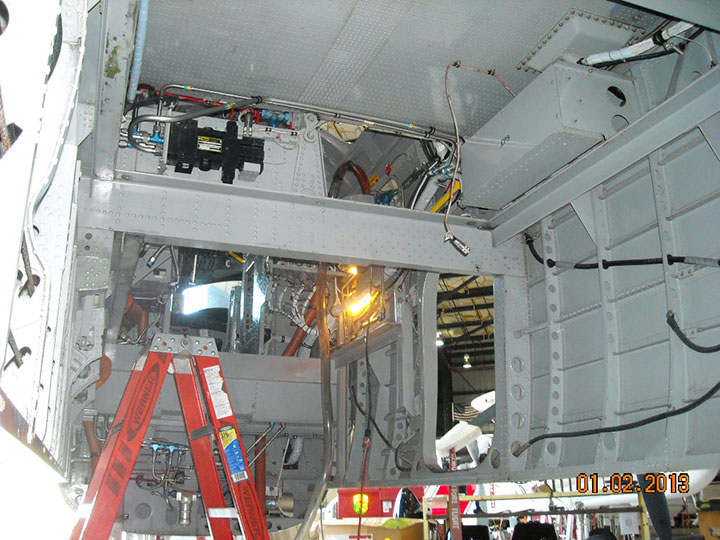 Forward part of retardant tank cavity looking into the flight deck. Notice aircrew entrance door/opening on the right side of airframe.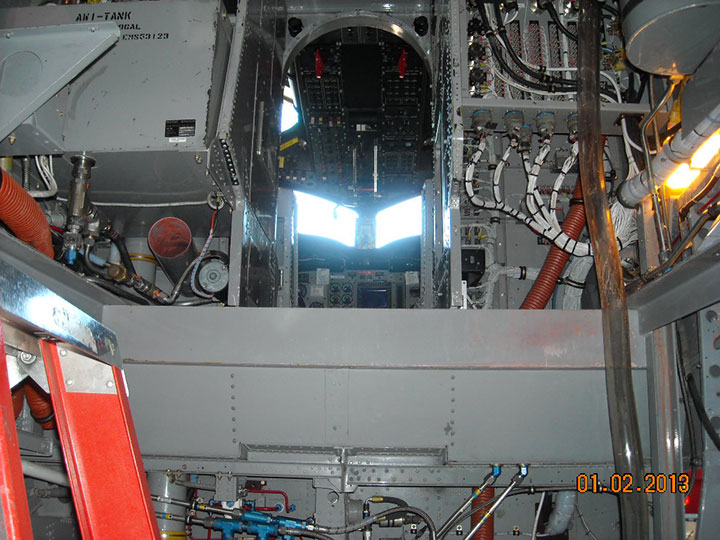 A closer look of flight deck from retardant tank cavity.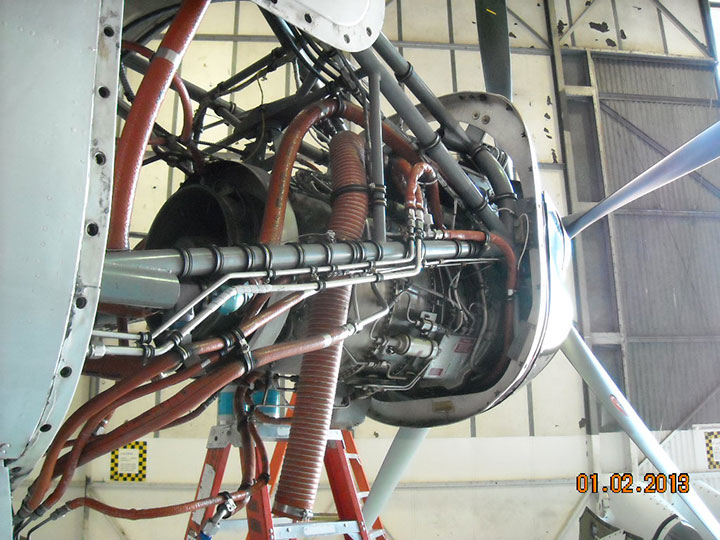 #1 Engine with all engine cowlings removed. Engine SOAP sample have been performed. Engine oil has been drained. Engine is in the process of being serviced with new turbine oil. Notice the cans on the ladder.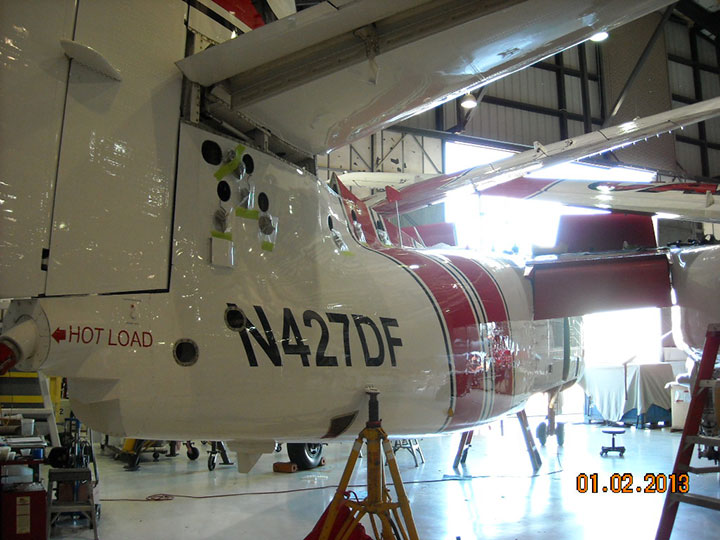 View of airframe aft looking forward. Tail access panels opened for 400 hour inspection.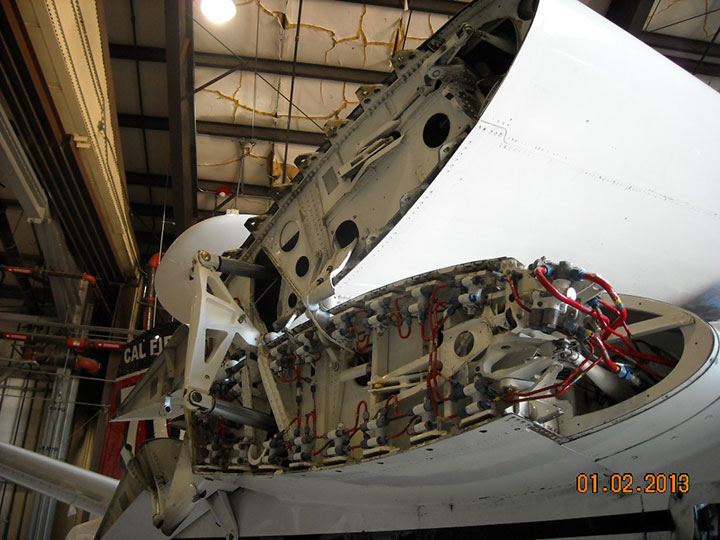 Wings are folded for wing fold/wing lock inspection every 24 months or when maintenance is required.
---
Traders
146044: Doug Goss, Topeka, KS Photos of reconstruction from Doug Goss taken Sept- Oct 2011
A January 2013 update from Crew Member Robert Eichkorn: "We have hung the right (#2) engine back on the C-1A and are currently plumbing it out. Following that, we will be pulling the left engine/mount off and building up the QEC for that side. We have both engines back from Anderson Aeromotive (zero-timed) and both replacement props back from Maxwell Propeller (overhauled). Our first airshow is now booked for mid-June (Thunder Over Michigan – Ypsilanti, MI) and we are also planning to spend the week at Oshkosh in July."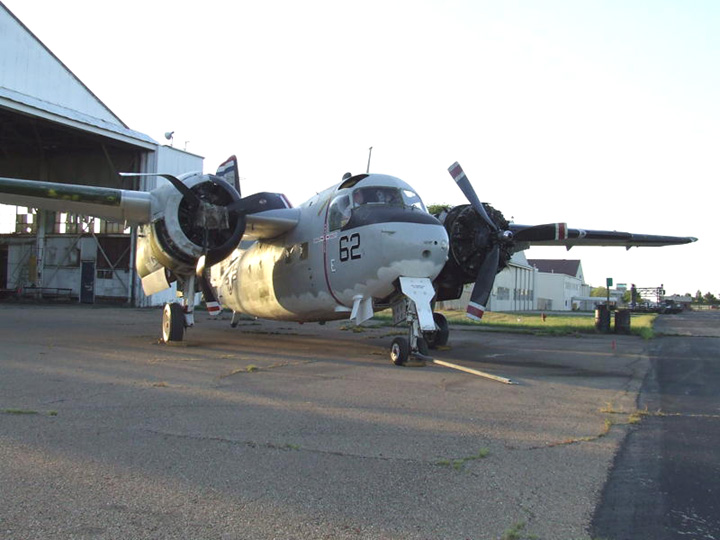 ---
146045: MCAS Beaufort, SC Photos provided by Dan Serrato. Trader is being used for fire training. That being said and looking at the second photo it would appear it has not been used for this purpose for a long time with what looks to the floor covered with pine needles.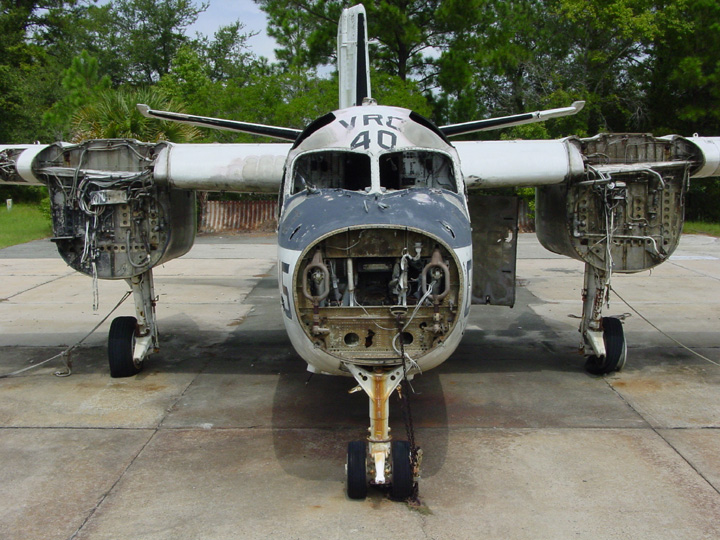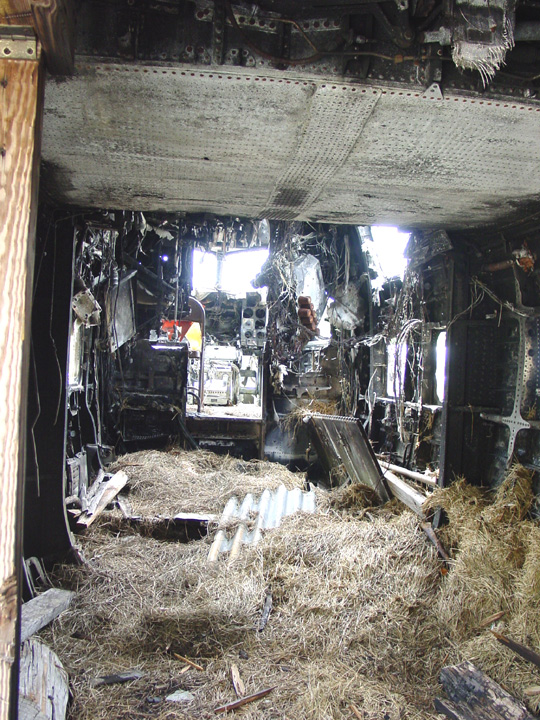 ---
Tracers
148922: United Aeronautical Salvage Yard, Tucson, AZ
This aircraft has been purchased for a flying restoration by Juan Redick. He currently has it for sale. Note that it actually has tires but no engines.
The following photos were provided by Fred Austin of Golden Age Aeroplanes.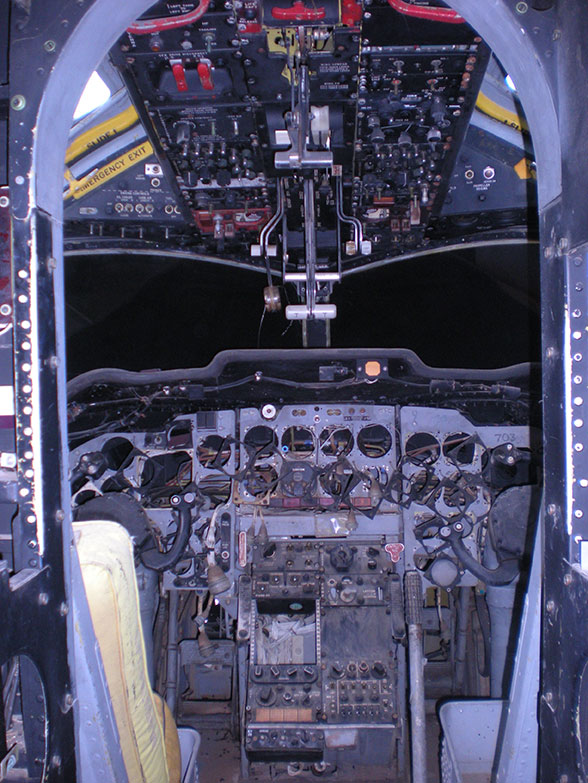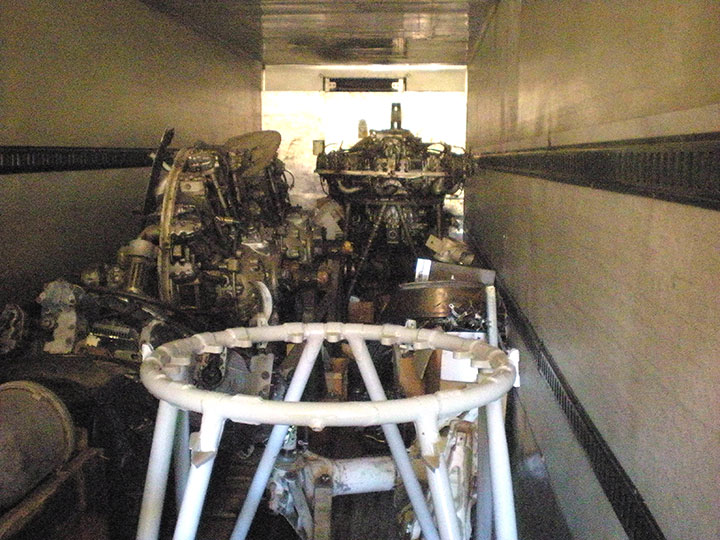 The spare parts and engines that go with 148922.