Introduction
The Grumman S2F / S-2 Tracker Survivors will keep an update on the Grumman Tracker Series of aircraft that still exist, which includes the S2F (S-two-f or Stoof) and CS2F Tracker, the TF-1 / C-1A Trader and WF-2 / E-1B Tracer. Since the initiation of this website and effort in 2006 we have found and logged 251 Trackers, 35 Traders, and 6 Tracers that still exist worldwide. Separately cataloged are another 91 Trackers, 3 Traders, and 11 Tracers in the United Aeronautical Corporation Salvage Yard in Tucson, AZ. Those airframes are supplying parts, and will never leave that facility as an entire airframe.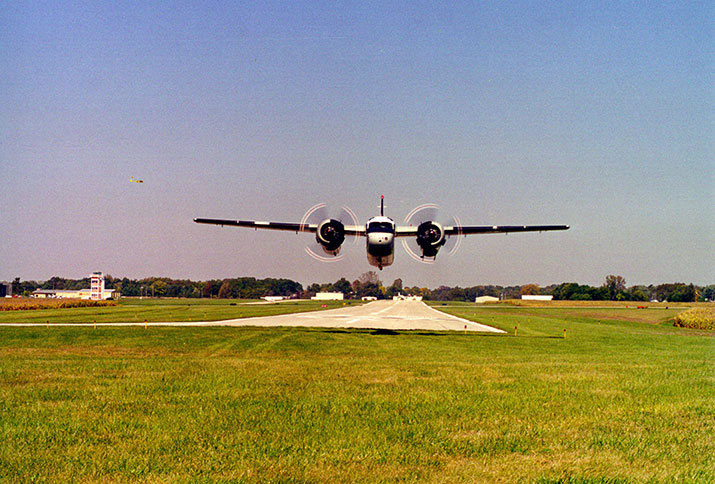 The Iron Lady, 136427, coming at you!! Anderson Runway 18 in 1998. Photo courtesy of Brian Gwaltney.

Unfortunately, very few of these hardworking and venerable aircraft are still around today. Even fewer are still flying at air shows or displayed at aviation museums around the world. Our primary focus will be to provide you with up-to-date information on where you can see the remaining Trackers, Traders, and Tracers, and also provide direct links to any information, including photos of these venerable aircraft.
This has been, and continues to be, an interesting task. The final number of Trackers and its derivatives still in existence worldwide is yet unknown. I am continually updating the site as I discover new information and aircraft.
Editor's Note: The information on this website was previously at www.s2ftracker.com and titled "The Surviving S2F Tracker Information Repository". I shut it down in November 2015 for various reasons. In December 2016 I resurrected the website with the new title and domain name.
David D Jackson
12-11-2016
2017 S2F, C-1 and EB-1 Current Events:
The sad end of C-1A 146502: I want to thank John Parr from Houston, TX for providing the sad photos of C-1A 146502 that he took at an antique festival.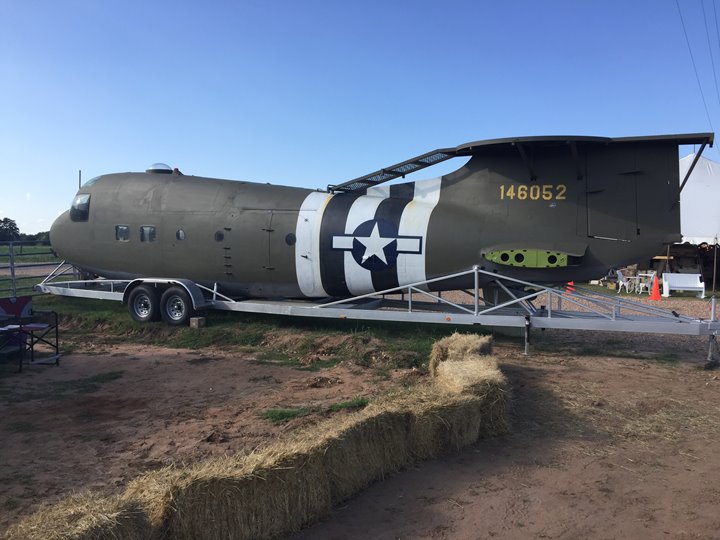 C-1A 146502 used to belong to the Lone Star Flight Museum in Galveston, TX, but went under water during Hurricane Ike in September 2008. The airframe was considered a total loss by the museum, and it would appear the museum sold the aircraft. When I first saw this photo, I thought because of the paint job, John had sent me a photo of a C-47 painted in D-Day markings. It appears that now 146502, minus wings and engines, is put on display at festivals and other such events. What a sad end to a great aircraft. Note the ramp on the top of the fuselage to the tail section. The Navy Bureau number 146052 is prominently displayed. Photo courtesy of John Parr.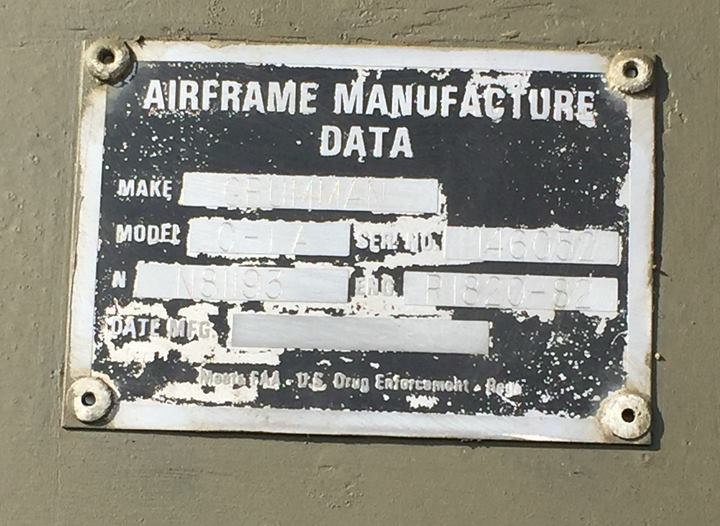 The data plate is still on the airframe. Photo courtesy of John Parr.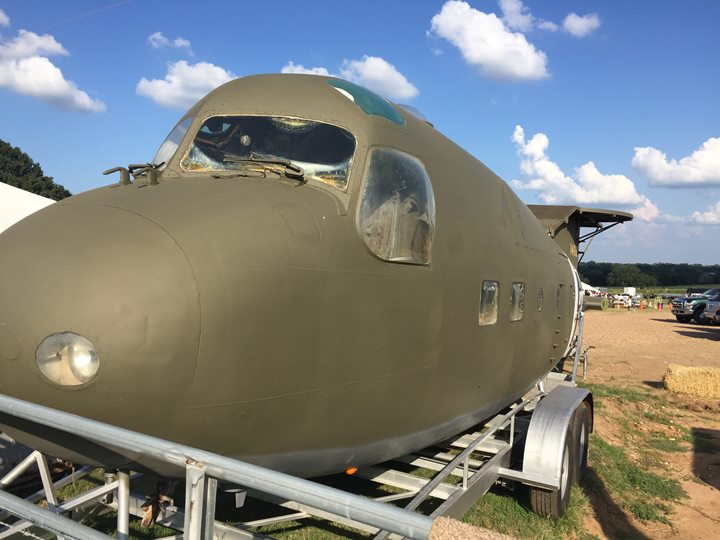 The Lone Star Museum Flight Museum opened a new facility in Houston in 2017 to no longer be in the path of hurricanes, as it was in Galveston. Apparently the Trader was not considered good enough to be part of the new museum. The museum let a rare aircraft become a carny display because it did not want to spend the time and effort to restore it to a first class static display. Photo courtesy of John Parr.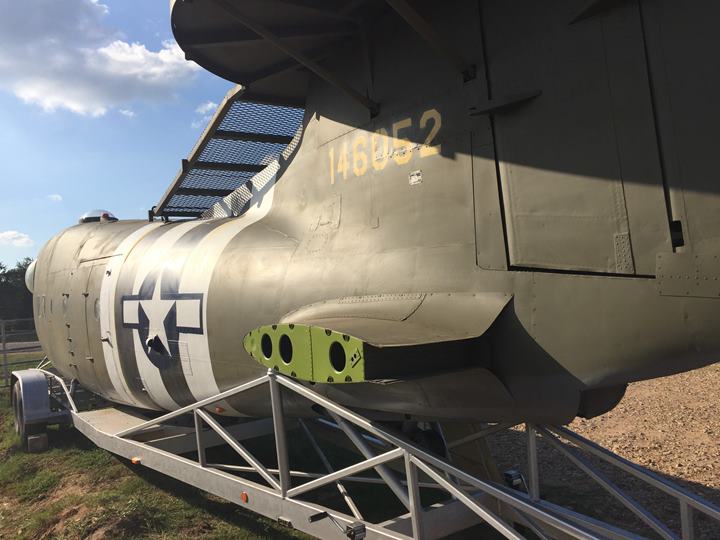 Photo courtesy of John Parr.
---
147217 - The day after photographing the Tracker in New York I was at the New England Air Museum, Windsor Locks, CT where I photographed this Tracer on display. Photos taken August 12, 2017.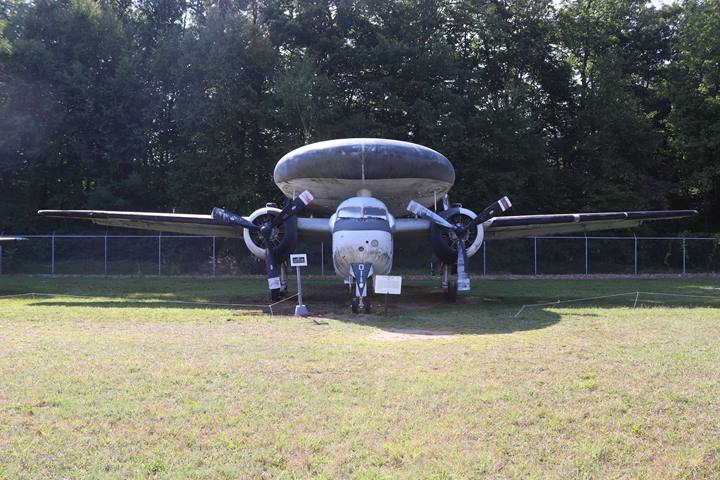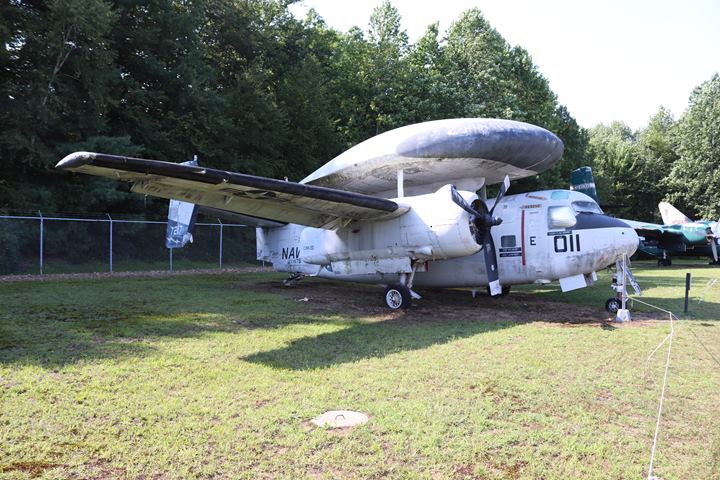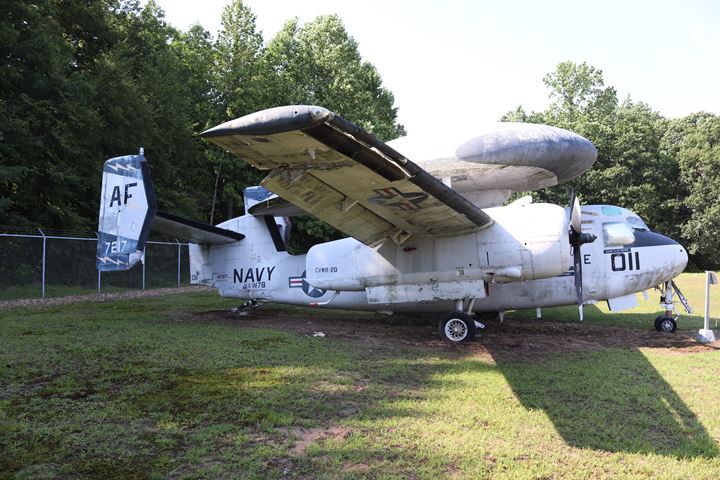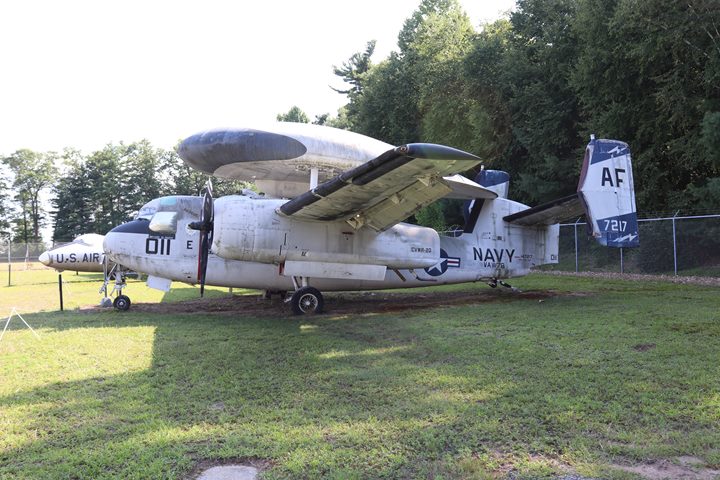 ---
133264 - This Tracker was previously on display at the USS Intrepid Museum in New York City but was transferred to its present location Empire State Aerosciences Museum, Glenville, NY when the Intrepid had to make room for the Concorde display. The museum is located on the west side of the Schenectady County Airport. I visited the museum on August 11, 2017.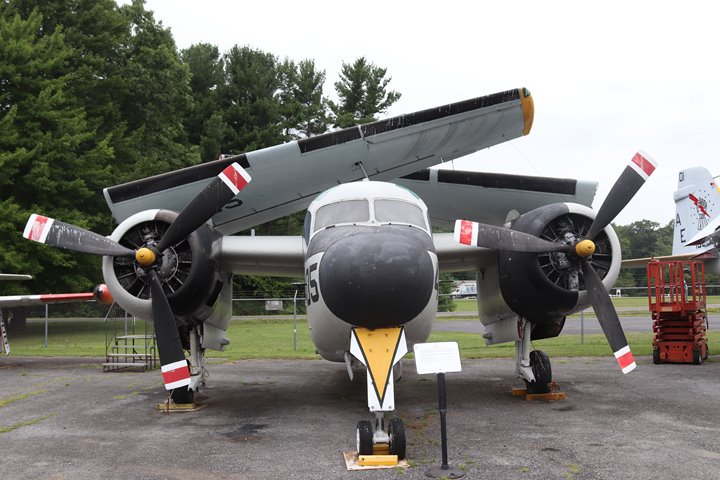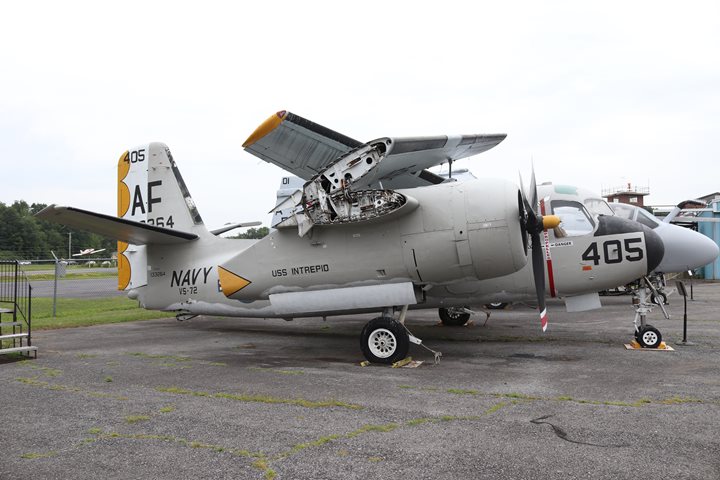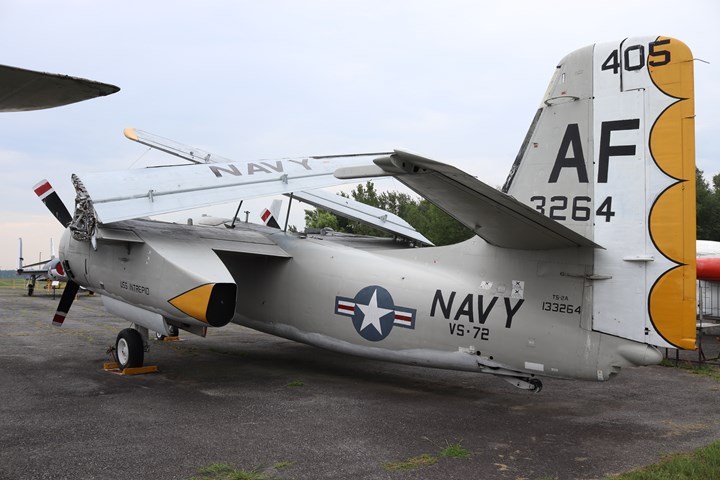 136573 - I was able to stop by and photograph this Tracker on July 6, 2017. It was located at the State Technical College of Missouri in Linn, MO. The aircraft was moved sometime previous to September 2015. It is being used as a teaching aid but the FAA registry still shows the owner as Wes Stricker of Rolla, MO. DDJ 7-10-2017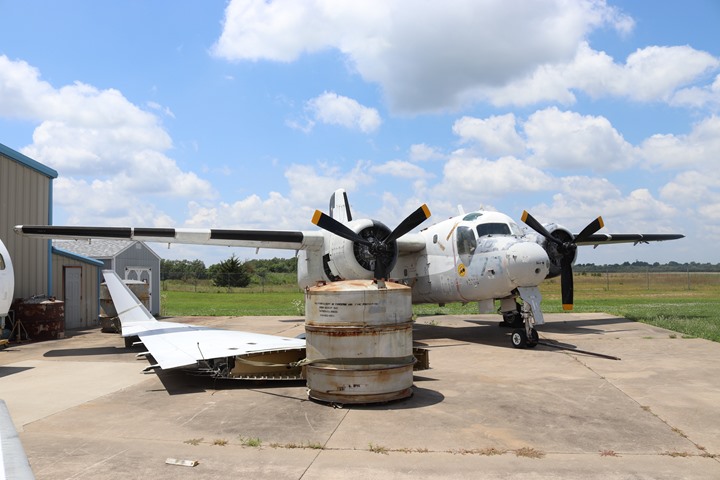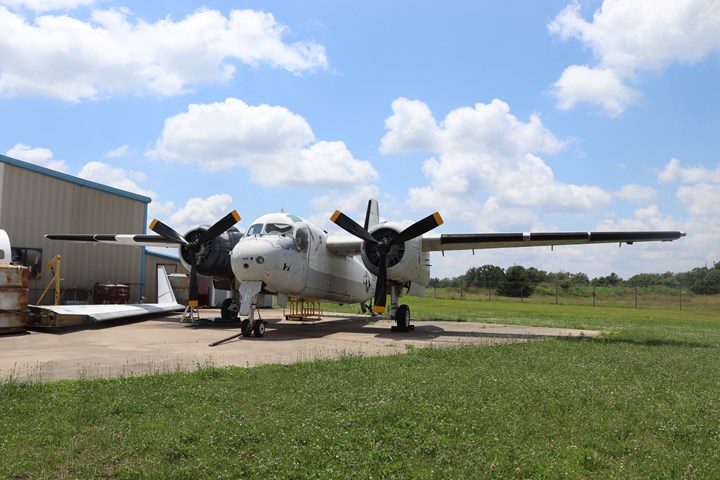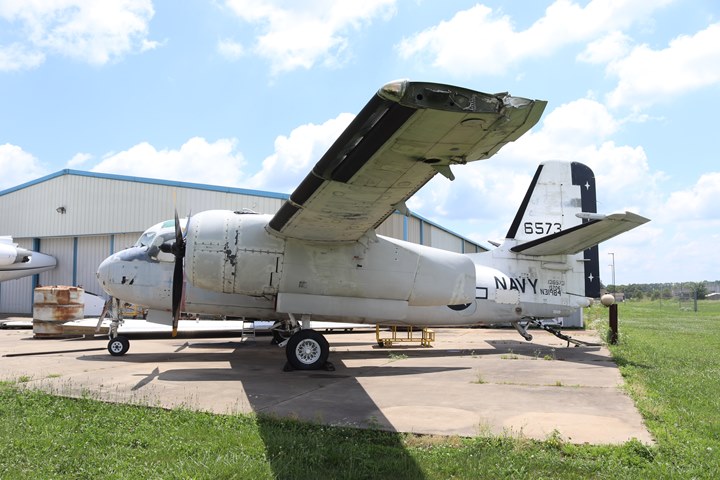 There is damage to the left wing tip and aileron.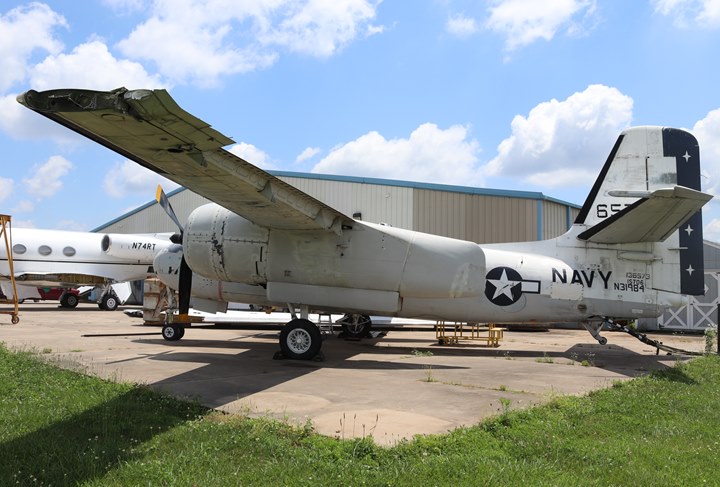 Both flaps on the aircraft had been removed.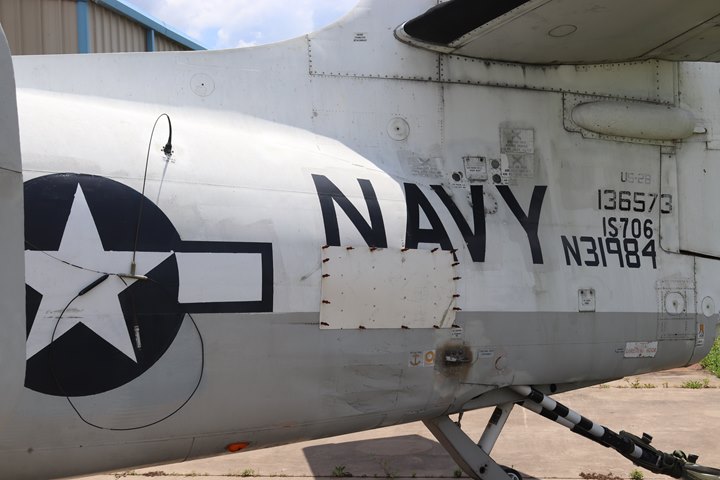 Work has started to repair the hole in the fuselage.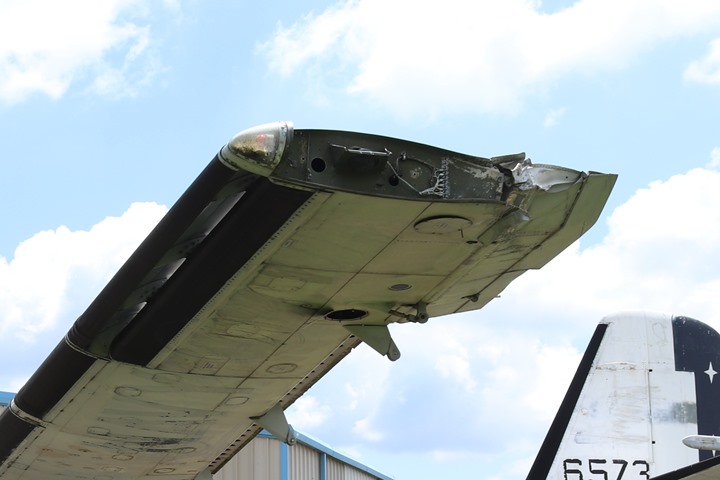 152800, 152805, 152809, 162811, 162816, 152837, 153566, 153576, 163578, 153598, and 153604: These Trackers were previously in Australia, and were purchased in 2016 by United Aeronautical Corporation of Hollywood (UAC), CA, USA. The airframes were purchased to provide UAC with more spare parts, especially landing gears, for the Trackers that are still operating worldwide. As of September 2016 152816, 153566, 153598, 153604 were already on site at Tucson, AZ. This particular purchase has been in the works since 2013. Not only did UAC have to negotiate the purchase of the airframes in Australia, it then needed to get approval from the US Department of Defense to bring them back into the United States. A little known fact is that this little and ungainly looking aircraft carried nuclear weapons during its military life with the US Navy.

Thank you to Steve Williamson for providing this website with information on this sale. DDJ 5-3-2017

136726: This Tracker, previously unidentified by this website was listed for sale by Sky4Buy in April 2015 for $2,500. More than likely it did not sell and was scrapped out in 2015. DDJ 1-8-2017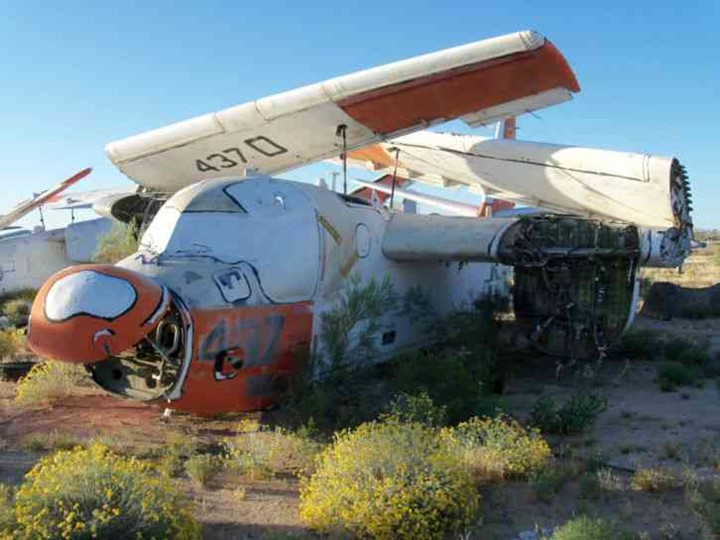 Worldwide Database of location of known existing Trackers, Traders and Tracers
Definitions:
Registered - These are aircraft that are have been registered with a country's respective civil aviation authority for civilian flight. For the most part these are air tankers used in three countries, a handful of warbirds, and some that, even though still registered, are museum displays with no intent of flying by the present owners.
Military - These are aircraft that are in service with a country's respective military service. Surprisingly, the S2F is still in limited service with two military arms. Seeing how the S2F first flew in 1952 and is still in military service, puts it in the same class as the Boeing B-52 for longevity in a country's national defense. This is outstanding!
Museum - These are aircraft no longer registered or in active military service that are currently on static display at any type of venue. They can be either be inside or outside; or as in one case, located outside the entrance to an international airport.
Storage - These are aircraft that do not fit in any of the above classifications, are still sitting on the landing gear and still look to be a whole airframe. Engines do not need to be on, as they are the first items to be used of another flying aircraft, and can be replaced rather easily. There is still the possibility the aircraft could be made flyable, or into a museum display. There are some S2F hulks in British Columbia, Canada that have not been included in this classification, as the landing gears have been removed and the airframes are being used as spare parts.

World Wide Location of S2F/S-2 or CS2F Trackers - Aircraft were all originally built by Grumman or deHavilland Canada. As currently registered or flying the aircraft could have been remanufactured by Conair, Grumman, Marsh, IAI and others. Not included in this accounting are 91 Trackers located at United Aeronautical Corporation in Tucson, AZ.
For the first time since this website opened in 2006, the number of Trackers has gone down. With the sale of 11 Trackers (10 of them previously identified on this website) in Australia to UAC for spare parts, the number has gone down by ten. The previously high of 251 will probably never be reached again.
Country
Registered
Military
Museum/Display
Storage
Total
Argentina
0
5
3
1
9
Australia
1
0
3
4
8
Brazil
0
0
5
4
9
Canada
17
0
13
17
47
France
8
0
0
0
8
Italy
0
0
5
0
5
Japan
0
0
1
0
1
Netherlands
0
0
4
0
4
Peru
0
0
3
0
3
South Korea
0
0
8
0
8
Taiwan
0
27
4
0
31
Thailand
0
0
1
7
8
Turkey
1
0
7
1
9
Uruguay
0
0
1
4
5
Venezuela
0
0
2
1
3
USA
61
0
15
6
83
Total
88
38
76
38
241

World Wide Location of TF-1/C-1A Traders - Not included in this accounting are 3 Traders located at United Aeronautical Corporation in Tucson, AZ.
Country
Registered
Military
Museum
Storage
Total
Brazil
0
4
0
4
8
USA
11
0
6
10
227
Total
11
4
6
114
35




World Wide Location of WF-2/E-1B Tracers - Not included in this accounting are 11 Tracers located at United Aeronautical Corporation in Tucson, AZ.
Country
Registered
Military
Museum
Storage
Total
USA
0
0
5
1*
6

*This actually is counted twice, once here and also among the (11) Tracers on the United Aeronautical Corporation Pages.

Trackers are world famous!!

This is from the front page of the "China Daily-The National English Language Newspaper" from October 24, 2007. I was on a business trip all the way to Shanghai, China; and there during breakfast at the hotel is a photo of Tanker 73 (149848) on the front page of the newspaper!

2016 Tracker Photos:
Royal Canadian Forces Tracker 1545 at the RCAF Air Museum in Trenton, ONT - 6-24-2016 This Tracker was supposed to be under restoration. Obviously that has not happened. Most likely it lost out in restoration priority to the Halifax now on display inside the museum.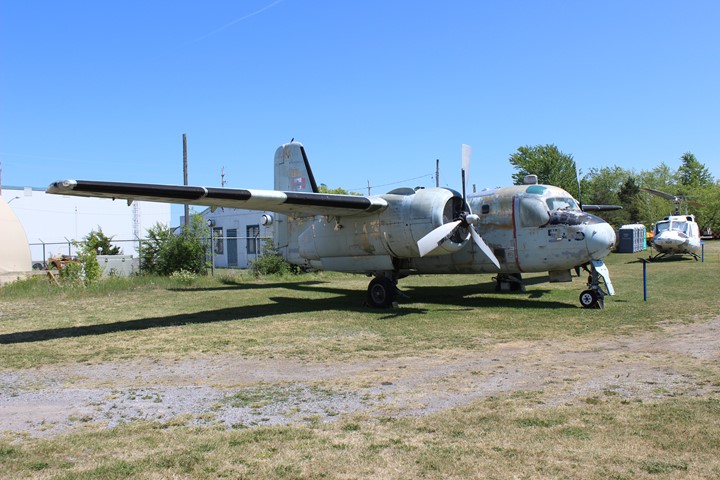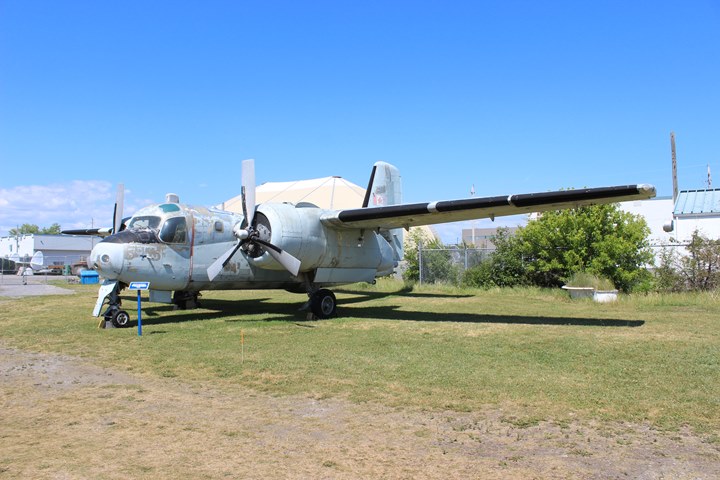 Tracker 149240 at the Patuxent River Naval Air Museum - 10-28-2016 This Tracker was accepted by the US Navy on March 10, 1962, and after serving with the fleet, joined the Naval Research Laboratories in December 1969. While there it performed meteorological and oceanographic research missions, along with tactical missions with chaff and sonobuoys. Its last flight was to the Museum in February 1981.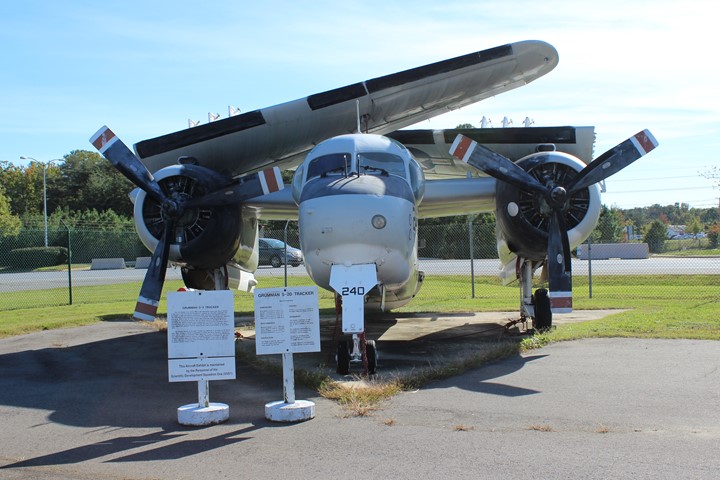 Author's Photo.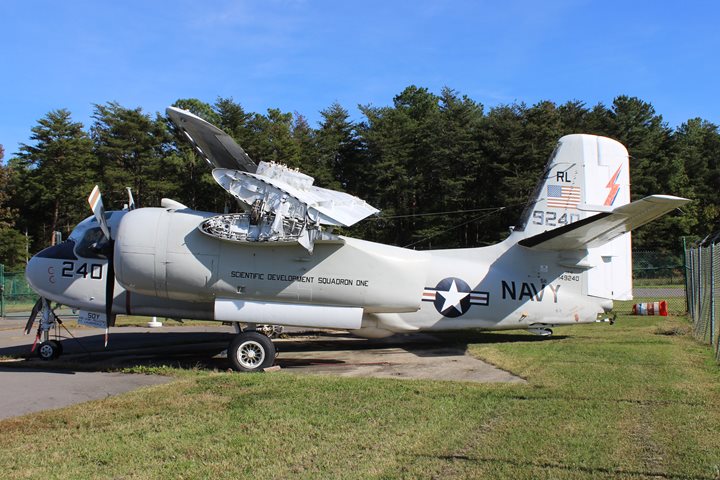 Author's Photo.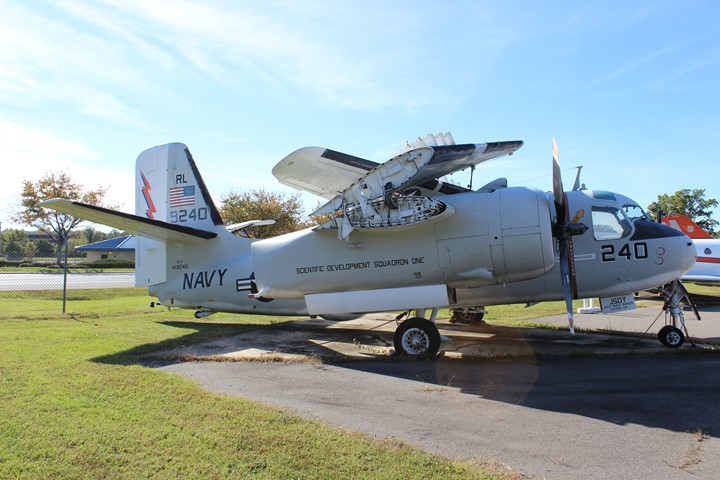 Author's Photo.
Guest Photos by Ertugrul Birel: One of the few Grumman Tracker still operating in 2016 is 149850, which is owned by Turkish Aerospace Industries (TAI), and ustilized as a test platform for new avionic equipment.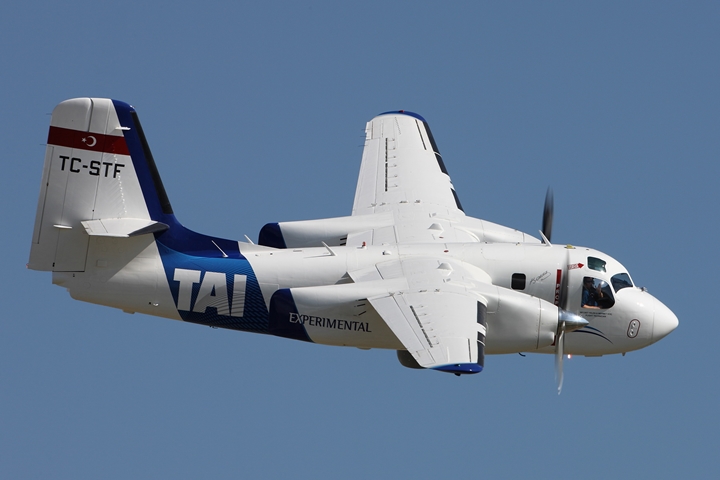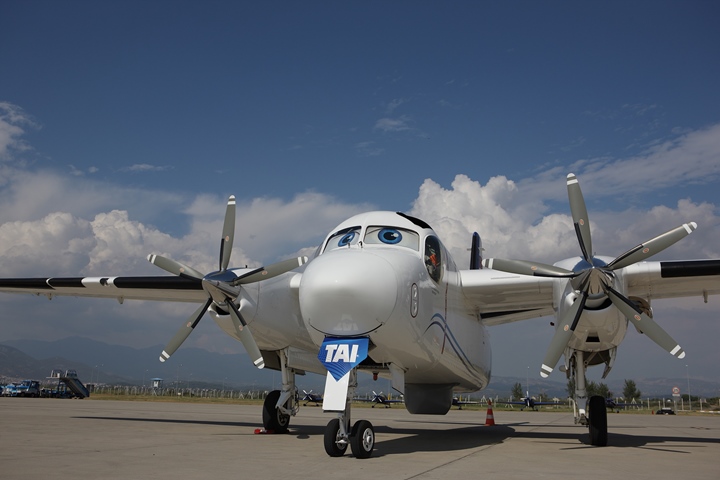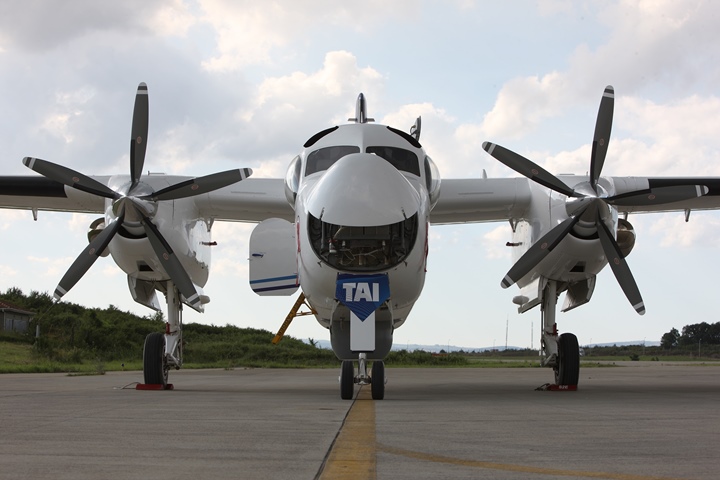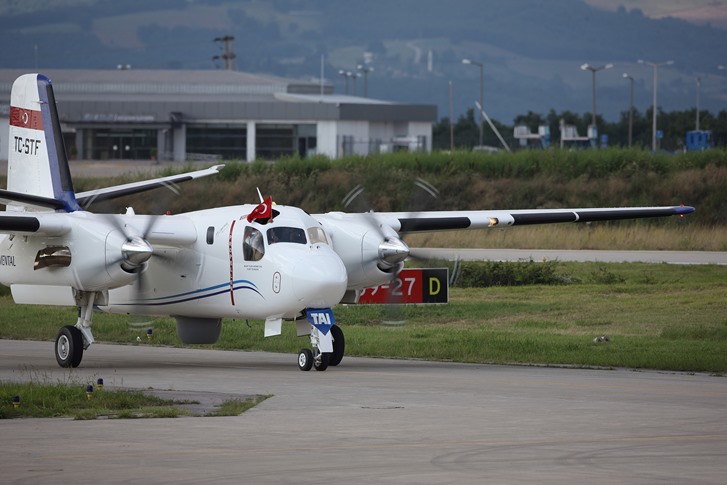 Guest Photos by Ozcan Ertem: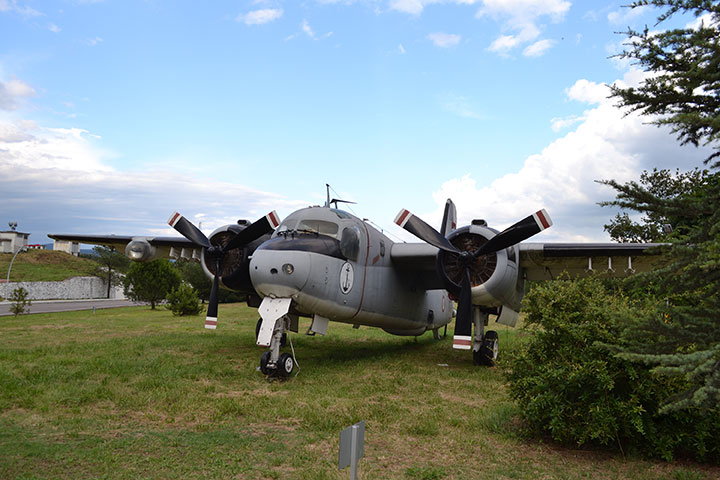 Photo of 149263 inside the main gate at Cengiz Topel Naval Air Station at Izmit, Turkey. Photo courtesy of Ozcan Ertem.

149849: Located at the Eskisehir Air Museum.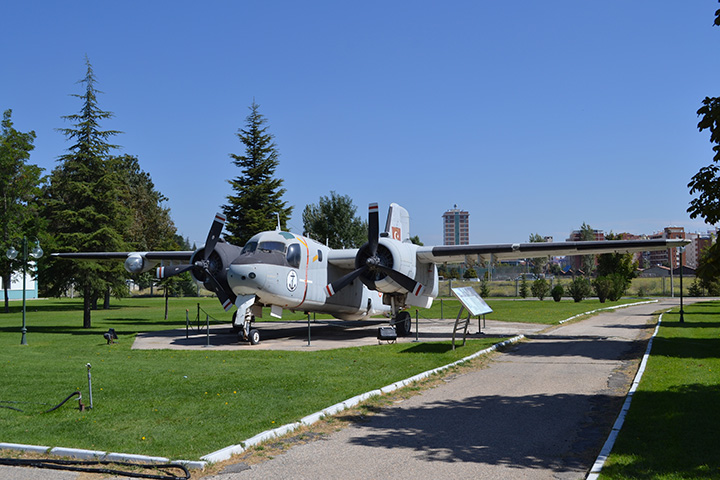 Photo of 149849 at the Eskisehir Air Museum, Turkey. Photo courtesy of Ozcan Ertem.
149887: Located at the Kocaeli University Campus in Kocaeli.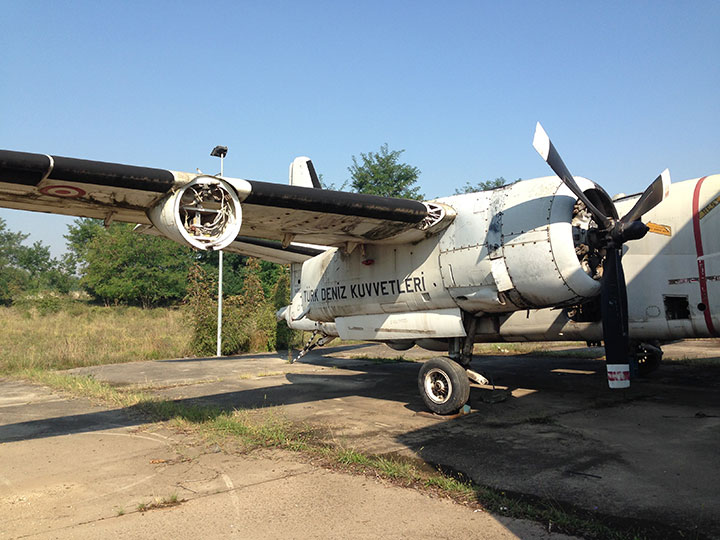 Photo of 149887 at the Kocaeli University Campus in Kocaeli. Photo courtesy of Ozcan Ertem.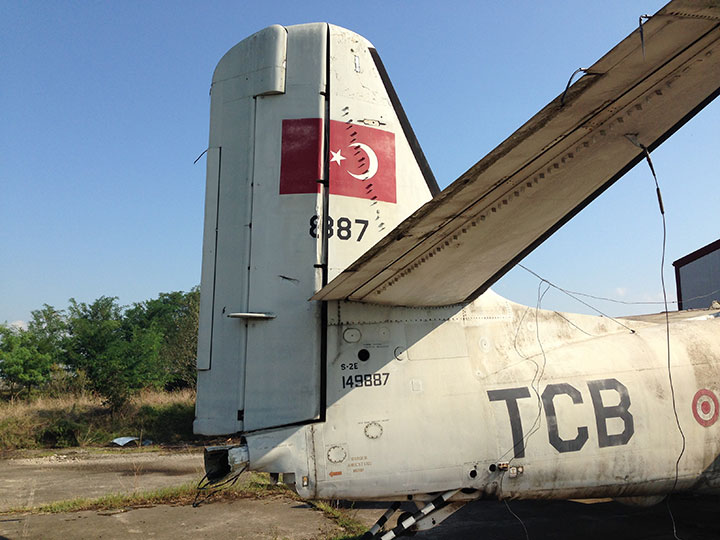 Photo of 149887 on the aircraft. Photo courtesy of Ozcan Ertem.

151663: Located at the Air Force Museum at the Ankara Etimesgut Airport.
151668: Located at the Kayseri Airport.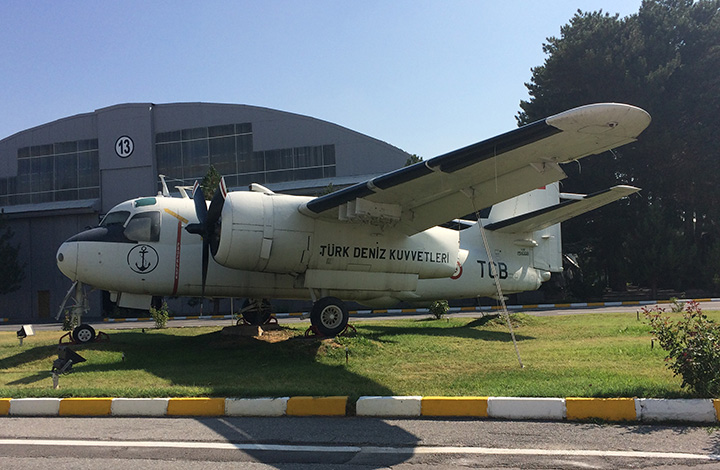 151668 sits in the middle of a boulevard. Photo courtesy of Ozcan Ertem.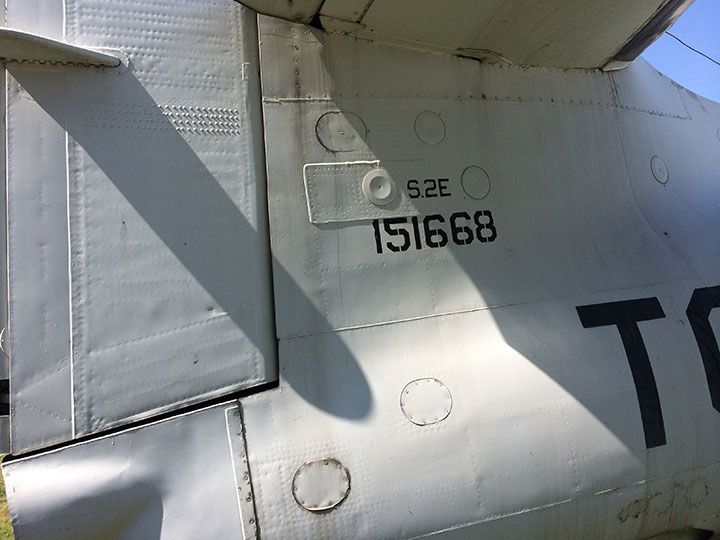 Photo of 151668 on the aircraft. Photo courtesy of Ozcan Ertem.
Also after more investigation the following S2F Trackers also on display in Turkey.
147644: Located at the Naval Base in Golcuk.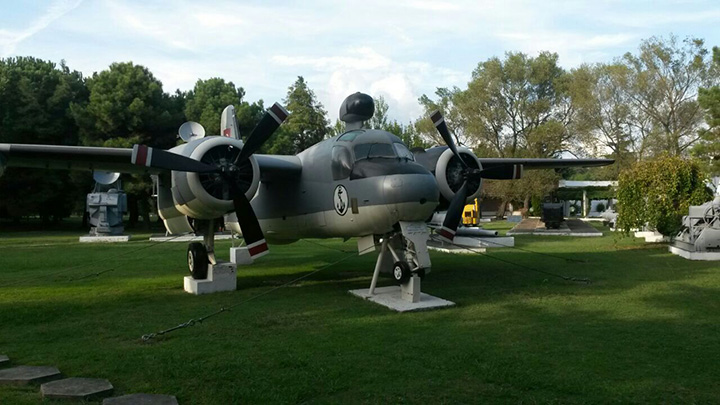 Photo courtesy of Ozcan Ertem.

151679: Located at the Eskisehir Airport as part of the Anadolu University there.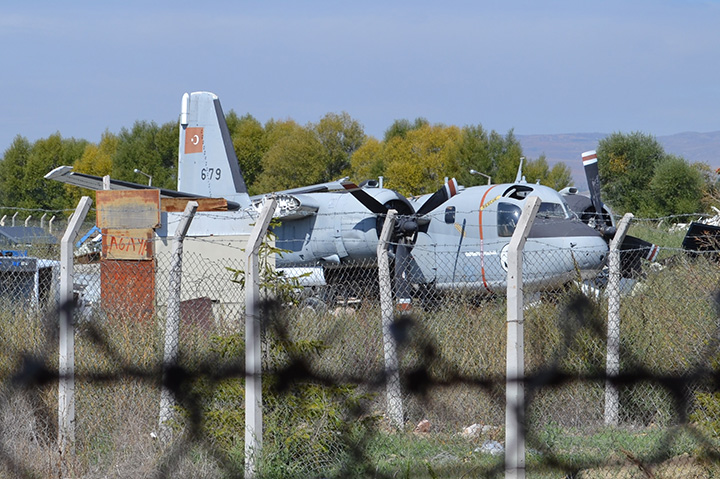 Photo of 151679 in the scrap yard at the Eskisehir Airport. Photo courtesy of Ozcan Ertem.
149850: On 9-8-2014 Ozcan Ertem provided and update and photo of 148850. The aircraft was re-registered TC-STF due to all Turkish aircraft having only letter registrations. Obviously STF is short for "Stoof", made at the suggestion of Ozcan when the change had to be made.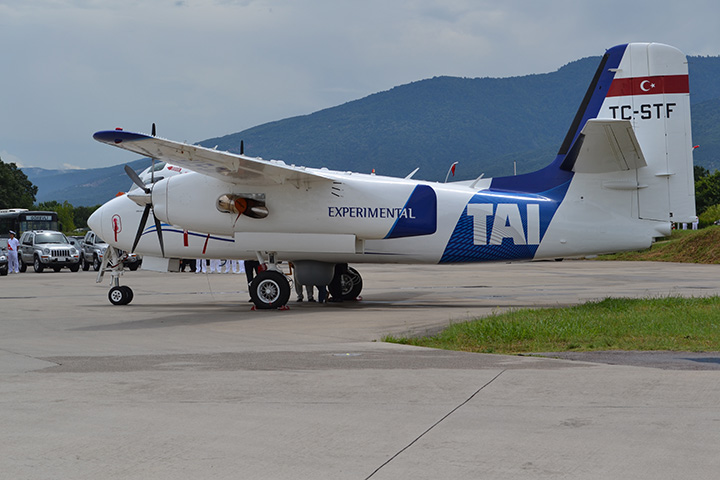 Photo of 149850. Photo courtesy of Ozcan Ertem.

Previous years' photos can be seen on the Archived Tracker Update page.
Remember:
Support your local S2F Tracker, Warbird Museums, and Warbird Air Shows!
This site last updated 10-30-2017.
Original publication date: 11-24-2006